Darkwind Goes Pink for Awareness by Shadram
Posted by NewsUncategorized
2014-10-01 in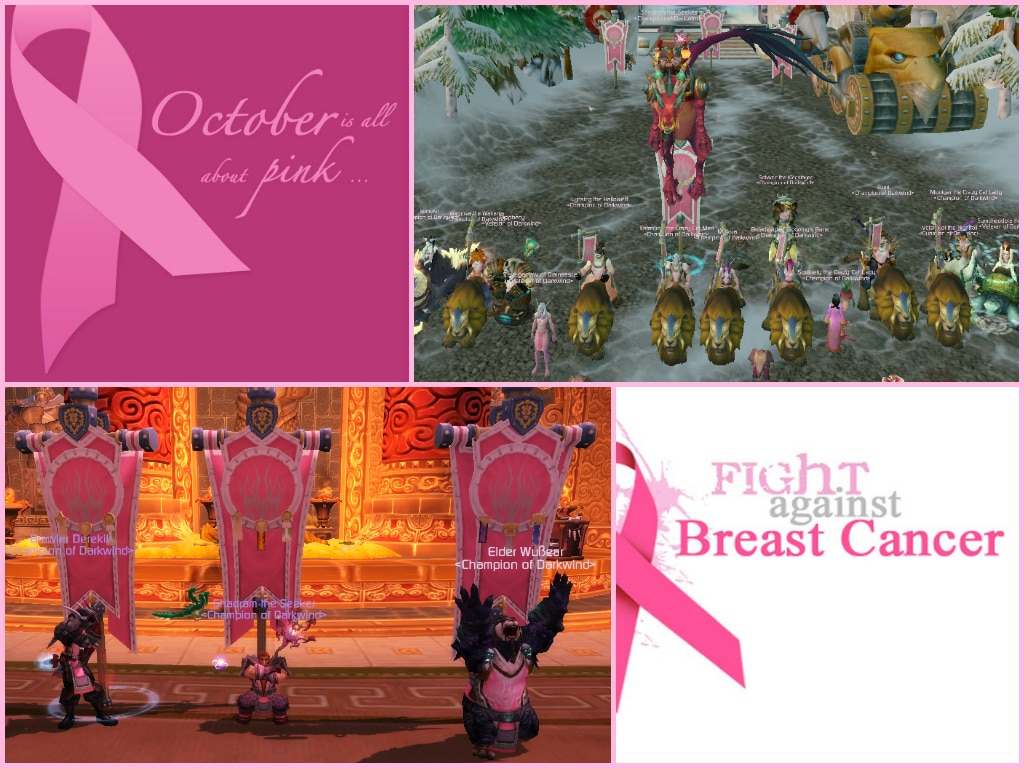 The Darkwind tabards and banners are turning pink for the month of October, in raising awareness for National Breast Cancer Awareness Month. To help promote awareness in-game, proudly wear your guild tabards in-game, and hop on those Golden King mounts that raise our banners around town. If you want to go all out, find pieces of gear to supplement your tabard. I know I am going to dust mine off from within my personal bank storage and wear them all month.
The first set of events have been posted on the guild calendar:
Sun, Oct 19, 6:00 pm server: Battle of the Sexes
Who knows more about the opposite sex? Come represent your gender in a night about trivia and mini-games!
Wed, Oct 22, 6:30 pm server: Ladies' Raid Night
No boys allowed (and none posing as a lady on a female toon)!
Come relax and enjoy the company of your fellow female Darkwindians.
Sun, Oct 26, 6:00 pm server: Race for the Cure
Meet at the gates of Stormwind wearing your guild tabard, as we publicize our support of cancer research.
We will start the evening with a pre-race party, working our way to the destination.
Race is complete with water stations, give-aways, and fellowship with other WoW players.
The guild PayPal is up, so if you would like to donate to the cause, click the widget on the top right corner of the website. Just make sure to add a note stating that the donation is "for the boobs!" The more money we as a guild can raise, the closer the foundations can get to finding and implementing treatment plans.
Hope to see you at our functions, and let's continue to show that Darkwind is a guild that gives in-game and out!