Happy 10th Birthday Darkwind! by Bakey
Posted by BirthdayNews
2019-02-19 in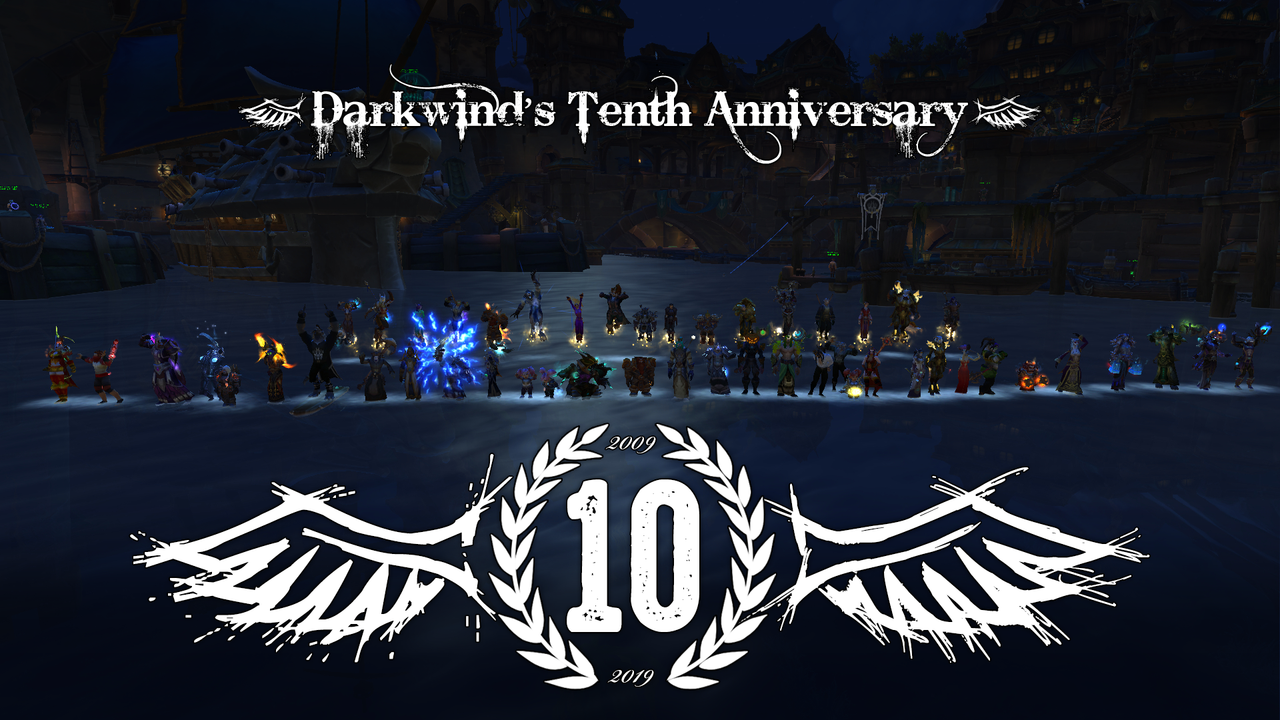 On Feb 9, Darkwind turned 10 years old. A full decade ago, Katastros founded this wonderful guild we now call home. We celebrated in game with Guild Trivia, Goblin Glider Darts, Steam Tonk Battle Royale, a Choose Your Own Adventure Darkwind historical recap (awesome work, Aredawg), Dodgeball, Dazzling Rod Laser Tag, a transmog contest, and huge swag bag giveaways which included a Jeweled Panther for everyone who came!

Big shoutouts to everyone who made this a success:
Mount Donations
Blood/Malfrost/Shad, Lohnoak/Liara assisting

: Mecha-Mogul Mk2

Jinxie

: Jeweled Onyx Panther

Karensa

: Hogrus, Swine of Good Fortune

Karensa/Shadram

: Vial of the Sands

Waldhaar

: Steelbound Harness

Zen

: Vulpine Familiar
Jeweled Panther Presents
Bakey

: Ghost Iron Ore gathering & prospecting

Jinxie

: Living Steel transmutes every single day

Shadram

: Halfhill farms x12 daily, for Trillium Bars, Gems, and transmute mats

Zen

: donating gold (600k) to fund the jeweled panthers
Labors of Love
Aredawg, Bakey assisting

: writing the Darkwind history

Bakey/Blood/Jinxie/Karensa/Quimby

: donated BfA pets

Enishi

: creating the Darkwind Annual Picture

Liara, Soranai/Shad assisting

: getting the WeakAuras set up for Darkwind Laser Tag
Special shoutout to Shadram for coordinating this awesome event. As you can see dozens of hours and hundreds of dollars went into this event to make it a party to remember!