Holiday Festivities: the Good, the Bad, the Ugly by Shadram
Posted by News
2018-12-31 in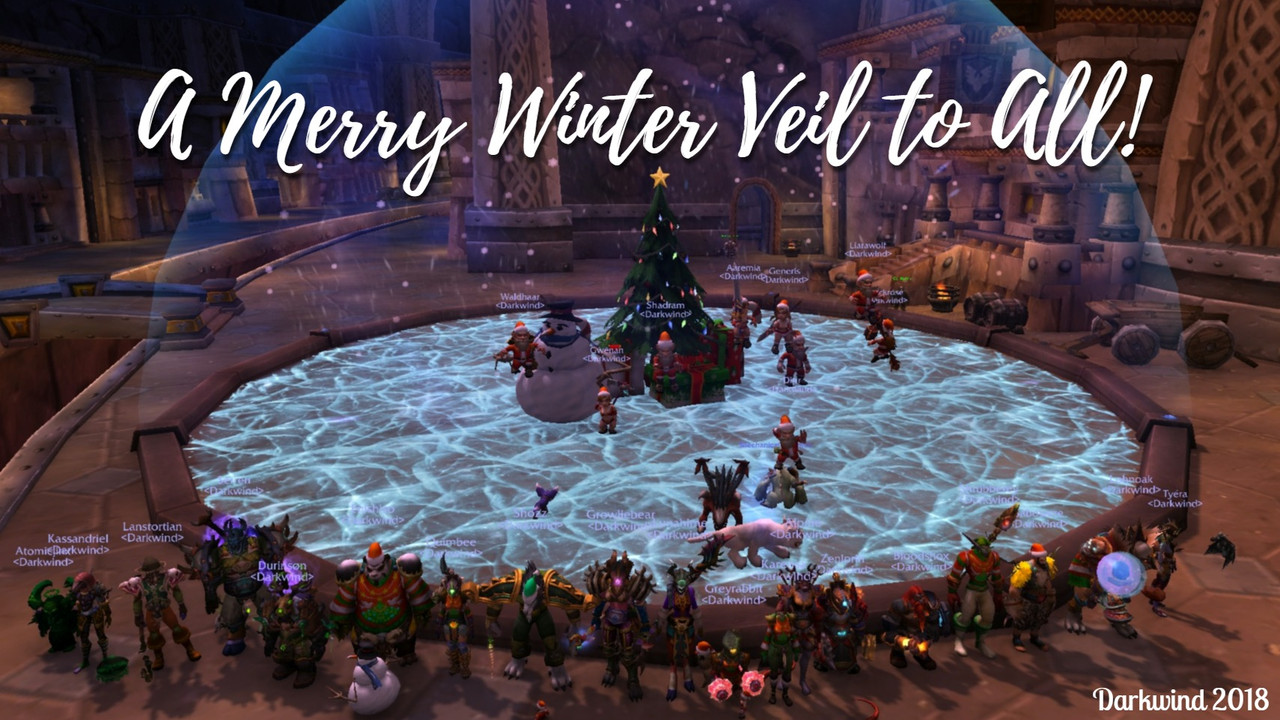 This year, Darkwind celebrated Winter Veil with a collection of activities, filled with annual holiday traditions, and some new twists on some of our classic games. We began the night with our yearly saving of Metzen the reindeer, downing the infamous bad ol' Greench.
Moving next door to the snowy fields in Hillsbrad, we split in 6 teams to play a snowball fight with three rounds. Whichever teams had the lowest and highest number of snowballs by the end of each round were eliminated. After 3 rounds, Quimby, Vortice, Enishi, and Malfrost walked away the winners of the round, adopting Grumpling pets as their reward.
Back to Ironforge, we held our Ugly Transmog Contest, with a bunch of great entries. Sarre took the crown, being the ugliest dressed in attendance, winning him a Grumpus mount. The White Elephant gift exchange happened after; the person who gifted the funniest gift would walk away with a Whomper pet, and Shozz made the most people laugh with his Pant Loaf.
Ending the night, the attendees were tasked with a four-phase Riddle Scavenger Hunt, inspired by the new Hivemind mount quest. Offered this riddle, they were to find the four Events Team officers to receive a task: "An earthen quarry, a fiery forge, a field for flight, a frozen lake flowing with ice; Offer a /wave to receive a riddle, fulfill all four first to win the grand prize!"
The riddle of earth at Gol'bolar Quarry ("/pet a cheerful canine companion with eyes so bright; donned in Santa's hat, oh my what a sight!"), the riddle of fire in the Ironforge Great Forge ("Gift a wrapped present to the officer nearby; then /flirt until she breathes a sigh."), the riddle of air at Ironforge Airfield ("Ride on Rudolph over the person here; offer Greatfather's Winter Ale and proclaim a /cheer."), and the riddle of water at New Tinkertown's Iceflow Lake ("They often say 'don't eat yellow snow;' but hand over a golden globe and /laugh as you go.") were solved by Lohnoak first. From his win, he received a WoW token.
Jinxie walked away from the evening /rolling an 100 for the grand prize, A Vulpine Familiar mount.
It was a great sight to see so many turn up for the festivities, and celebrate the holidays with our in-game family. As we wrap up 2018, Darkwind looks forward to celebrating its 10th year as a guild, in 2019. Happy New Year, all. See you on the other side!